The lone surviving gunman from a 2008 terrorist attack on this city was sentenced on Thursday to death by hanging.
The crimes of Ajmal Kasab, the convicted Pakistani man who was one of 10 attackers, were so reprehensible, the judge ruled, that "the court has no option except going with the death penalty."
Mr. Kasab, who looked ill and spent most of the hearing with his head lowered and his right hand covering his face, did not react to the sentence. When asked if he would like to say anything before the sentence was read, Mr. Kasab, 22, shook his head and flicked his hand.
More than 160 people died at a train station, two hotels, a Jewish center and a popular bar during the attacks that lasted for three days in November 2008. Mr. Kasab and an accomplice were responsible for about 60 deaths, most of them at the train station, where pictures and video footage showed him firing indiscriminately at passengers in a waiting area.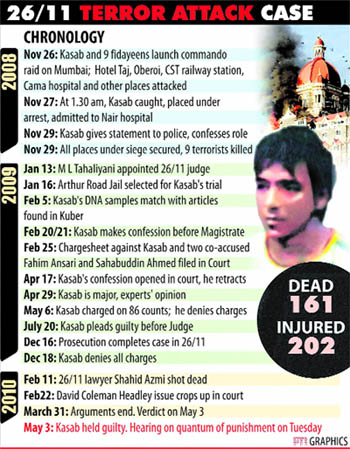 The judge, M.L. Tahaliyani, sentenced Mr. Kasab to four death sentences and about two dozen lesser sentences ranging from life imprisonment to a month in jail.
Mr. Kasab is unlikely to be put to death quickly because of appeals to higher courts.
Executions are very rare in India. The country has put just put to death just one person, a convicted rapist and murderer, in the last decade, according to Human Rights Watch. In 2007, the latest year for which statistics are available, 186 convicts were sentenced to death, but authorities also commuted to life imprisonment the sentences of 881 people on death row, according to the National Crime Records Bureau.